Keto Bacon Wrapped Buffalo Chicken Bites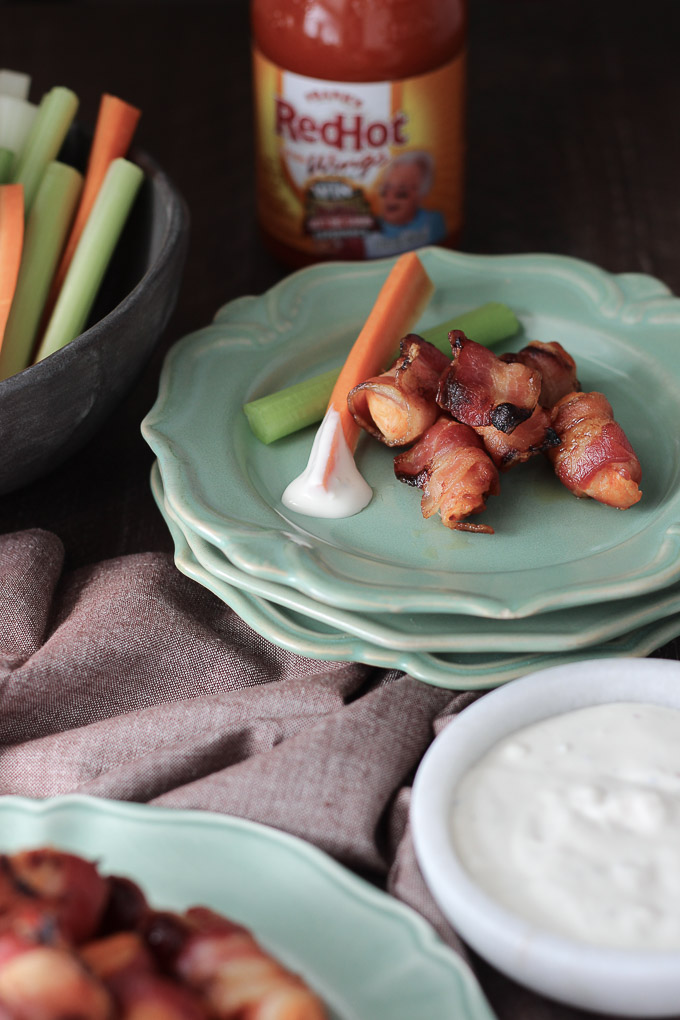 Ingredients
Buffalo Chicken Bites (makes about 50 pieces)

1

 

pound

 

boneless chicken breasts

 

cut into 1 inch pieces

1

 

pound

 

regular cut bacon

 

thin, I used Oscar Meyer

1/2

 

cup

 

Franks Red Hot Buffalo Sauce

1/4

 

cup

 

Franks Red Hot Buffalo Sauce

 

for basting
Instructions
Prep: Cut the chicken into 1 inch pieces. Pour 1/2 cup Franks Red Hot Buffalo Sauce (or your favorite) over the chicken and mix to distribute. Let marinate in the refrigerator over night.

Preheat the oven to 375. Place the rack in the middle position. Place a cooling rack into the middle of a large sheet pan.

Procedure: Cut all of the bacon into thirds. Place 1/3 of the bacon onto a cutting board into rows. Place a piece of chicken on a piece of bacon and roll, continuing for all of the bacon on the cutting board. Transfer the bacon wrapped buffalo chicken to the sheet pan and place seam side down on the cooling rack. Place the next third of bacon on the cutting board into rows, and repeat the procedure. Continue until you run out of bacon or chicken. Using a pastry brush, baste each chicken bite with 1/4 cup buffalo sauce. If you do not have a pastry brush, then add a few drops to each with a spoon.

Bake: Bake in the middle of the oven for 20 minutes, then place under the broiler for 5-7 minutes, turn the bacon chicken bites over and broil for another 5-8 minutes.

Serve with Buffalo Sauce and Blue Cheese dressing. Makes about 50 pieces.
Want more recipes like above? Click Here for 370 Keto Recipes